Sophos Home - Best Cyber Security Software With AI Technology
Category: SECURITY SOFTWARE | 2021-07-13 | Author: CSI TEAM
Buy Now - Malware Removal Software
Sophos Home, Award-winning Security
The Same Malware That Attacks Fortune 500 Companies Attacks Private Users, Too. Sophos Home Uses The Same Award-winning Security Features That Keep Those Companies Safe.
Better Performance
See An Immediate Improvement As Sophos Home Scans And Cleans Your Computer, Removing Malware That Could Be Slowing It Down.
Threat Protection
Keep Your Valued, Private Information Safe By Blocking Viruses, Ransomware, And Other Malware From Stealing Or Destroying Files, Documents, And Photos.
Secure Shopping
Surf The Web With Confidence, Knowing Sophos Home Protects Your Online Shopping And Banking From Phishing And Hacking.
The Protection You Need For All Your Personal Devices For One Low Price. No Gimmicks. No Add-ons. No Third-party Advertisements.
Malware Scan And Clean
AI Threat Detection
Ransomware Security
Security Management
Privacy Protection
Web Protection
Real-Time Antivirus
Parental Web Filtering
Premium Support
New Features Of The Sophos Home
Sophos Home Keeps You Safe Using A Layered Approach. Cybersecurity Is Not One-size-fits-all, So We've Customized How Sophos Home Protects Devices Based On The Operating System.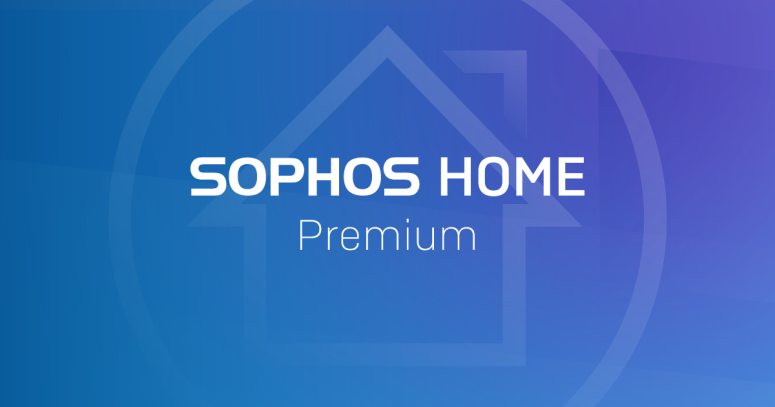 Malware Scan And Clean
Starts With A Deep Scan And Clean Of Your Computers For Hidden Threats. Removes Malware Lurking On Your System. Eliminates Viruses, Trojans, Rootkits, Spyware, And More.
AI Threat Detection
Protects Against Viruses, Malware, Trojans, Worms, Bots, Unwanted Apps, And More – Even Ones No One's Heard Of Yet.
Ransomware Security
Protects Your Personal Files And Photos From Being Encrypted And Held For Ransom. Blocks Ransomware And Rolls Back Any Affected Files So They're Just As You Left Them.
Security Management
Protects All Your Devices. Secure Up To 10 Windows And Mac Computers, Plus An Unlimited Amount Of IOS And Android Tablets And Phones.
Privacy Protection
Stops Unauthorized Access To Your Webcam. Encrypts Your Keystrokes So Cybercriminals And Keylogger Software Can't Capture What You're Typing – Like Logins And Passwords.
Web Protection
Blocks And Bad Or Compromised Websites, Including Phishing Sites, For Safe Browsing, Banking, And Shopping. Adds Additional Browser Security And Automatically Scans Your Downloads.
Real-Time PC Antivirus
Spots Telltale Virus Behaviors And Uses The Extensive SophosLabs Databases To Constantly Protect Your PC From Viruses, Malware, Trojans, Worms, Bots, Unwanted Applications, Ransomware, And More.
Parental Web Filtering
Gives You Parental Control Over The Web Content Your Children Can Access On A Computer. Simply Select Filtering Categories And Let Sophos Do The Rest.
Premium Support
Provides Live Email And Chat Support From 8 A.m. To 8 P.m. EST Monday-Friday. Plus, Our Knowledge Base Support Is Available 24/7.
We Protect Your Privacy
We've All Seen The Headlines: You Trust A Provider To Keep You Secure, And They Turn Around And Sell Your Private Data To Third Parties. We're Not Here To Sell Your Data – We're Here To Protect It.
Private Browsing
When Sophos Home Scans A Device, It Can Find And Remove Tracking Codes, Preventing Anyone From Following Your Online Browsing Without You Knowing.
Privacy Protection
Sophos Home Stops Hackers From Accessing Your Webcam Or Microphone – A Feature Found In Various Types Of Malware – To Block Spying And Predatory Acts.
Password Security
We Keep Your Logins Safe. Sophos Home Prevents Applications From Stealing Your Usernames And Passwords.
Seamless Management
Have A Lot Of Family And Friends? Do You Sometimes Feel Like The Family IT Specialist? Sophos Home Is Made To Protect Your Loved Ones Wherever They Are.
Protect All Your Devices
Sophos Home Can Protect 10 PCs Or Macs From Virtually Anywhere. Need Mobile Protection? Check Out The Free Sophos Intercept X For Mobile App On Android And IOS .
Mobile Management
Sophos Home's Mobile App And Cloud Dashboard Is Easy To Use. Add More Computers, Perform Remote Scans, Receive Alerts, And Modify Security Settings Remotely, Whenever You Need To.
Premium Support
You're Never On Your Own With Sophos Home. Have A Tricky Issue? Chat With Sophos Home's Professional Support Team.
HitmanPro
You've Been Infected. Well, Not You, But Your Computer Has. It's Slow. It's Acting Funny. You Need A No-nonsense Malware Cleaner To Get Your Computer Back Up To Speed. We Have Just The Thing. HitmanPro Is The Malware Remover Of Choice For Tens Of Millions Of People.
It's Really Small
You Can Download HitmanPro In Two Seconds (unless You Still Have Dial-up Internet). It's Only 10MB. Plus, You Don't Have To Install It – Just Run It After It's Downloaded.
It Scans For Bad Behavior
A Standard Antivirus Program Misses Stuff. It's Focused On Finding Malware Signatures That Virus Firms Have Identified As Malicious. But What About New, Zero-day Threats That Haven't Been Researched? That's Why HitmanPro Looks At Behaviors When Scanning For Trojans And Other Malware. Bad Behavior Is Caught, With Or Without A Malware Signature.
It Uses Multiple Experts
Two Heads Are Better Than One. So We Have Four. HitmanPro Leverages Malware Databases From Four Security Labs, Including SophosLabs, To Be Incredibly Thorough When Scanning For And Cleaning Up Spyware And Malware. More Research Means More Powerful Cleaning.
It Cleans Up After Itself
Malware Piggybacks On Various Programs To Gain Access To Your Computer. HitmanPro Removes That Malware – And It Doesn't Stop There. Damaged Windows Resources Are Brought Back To Their Safe, Original Versions.
It Goes Deep To Clean
Resilient Malware Can Also Affect Critical System Files And Boot Records To Manipulate The Windows Operating System And Installed Antivirus Software. This Is Even Before The Operating System Boots. HitmanPro Can Remove These Persistent Threats From Within The Running Operating System And Its Boot Records.

HitmanPro.Alert
Removes Malware. Prevents Hacking. Stops Ransomware. Always On.
It's One Thing To Clean All That Gunk Off Your Computer. It's Another To Keep It Consistently Clean. HitmanPro.Alert Not Only Removes Malware – It Works In The Background To Stop A Plethora Of Hacking Attacks.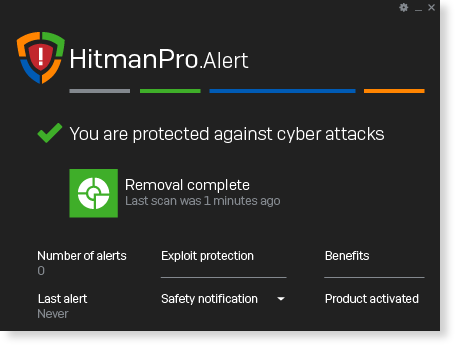 Includes HitmanPro Features
All That Cybersecurity Goodness That Exists In HitmanPro Is Included In HitmanPro.Alert. Sounds Too Good To Be True? Welcome To Security Paradise.
Protect Vulnerable Programs
We Hate To Say It, But Sometimes Standard Programs Like Microsoft Word Or Office Are The Weakest Link. They Can Be Weaponized Against You, Allowing For An Open Backdoor To Your Files And Sensitive Data. HitmanPro.Alert Adds Additional Security Layers Around These Vulnerable Programs And Replaces Infected Windows Resources With Safe, Original Versions.
Stop Zero-day Ransomware
HitmanPro.Alert Includes The CryptoGuard Feature, Which Analyzes All Encryption Behavior. It's A Ransomware Stalker. When It Recognizes Unauthorized Encryption, HitmanPro.Alert Reacts. It Creates Backups Of The Files, Then Stops And Removes The Ransomware. Finally, It Allows The Files To Be Reverted Back To Their Original State. No User Interaction Required, And No Ransomware Signatures Needed.
Keep Private Stuff Private
HitmanPro.Alert Encrypts What You Write Online, Making Keyloggers Useless At Capturing Sensitive Data Like Credit Card Numbers And Credentials. Also, HitmanPro.Alert Beefs Up Your Browser Security To Stop Hacking Exploits. But Wait, There's More: Receive Alerts When Your Webcam Is Turned On By Any Program.
Deceive Malware
Hackers Don't Want Their Precious Malware To Be Studied By Security Experts. This Is Why So Many Malware Programs Self-destruct When They Recognize A Researcher. Taking This Into Account, HitmanPro.Alert Makes Its Users All Look Like Malware Researchers, Resulting In A Lot Of Terminated Malware. It's Like Getting Honorary Degree From A Cybersecurity University.

Sophos Home, Sophos Home For MacOS, Sophos Home For Windows, Sophos Home Security Software, HitmanPro Security, HitmanPro.Alert Software
Buy Now - Software