Save Up To $30 On Pinnacle Studio 23 Products
Category: MULTIMEDIA | 2019-12-07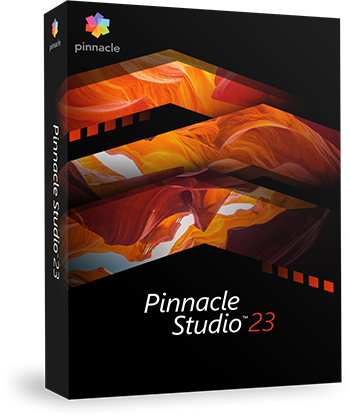 Edit Like A Pro Using The Video Editing Software That Brings You The Power, Precision, And Control You Crave. Pinnacle Studio's Enhanced, Intuitive Timeline Is Fully Loaded With Powerful, Pro-caliber Features. Enjoy Video Masking, Color Grading, MultiCam Editing, And More Tools Often Found In Professional Video Editing Software, At A Fraction Of The Cost. With Advanced Keyframing Controls, You Can Fine Tune Every Detail Of Your Next Video Production. Get The Total Precision And Control You Crave With Pinnacle Studio Ultimate.
Features Of Pinnacle Studio 23
Intuitive And Precise Timeline Editing
Pinnacle Studio Delivers Creative, Intuitive Timeline Or Storyboard Editing To Give You Precise Control Over How You Tell Your Story.
Powerful, Pro-caliber Tools
Pinnacle Studio 23 Ultimate Is Fully Loaded With All The Powerful Tools You Need To Edit Your Next Production, Including Comprehensive Color Grading, New Video Masks, MultiCam Editing, Green Screen Effects, And So Much More.
Set The Tone With Color Grading
Control The Ambiance Of Your Video And Set The Mood With Full Color Grading Capabilities, Customizable Down To The Keyframe. Achieve Professional-level Thematic Effects, And Easily Duplicate Your Alterations Across Clips. Color Grading Empowers You To Completely Transform The Feel Of Your Footage, Draw Focus To Scenes Or Subjects, Make Corrections To The Hue And Brightness Of Your Clips, And So Much More.
Get Creative With Advanced Masking And Overlays
Video Masks Are A Revolutionary Tool For Everything From Basic Fixes Like Face Blurring And Subject Enhancement, To Pro-level Edits Like Removing Unwanted Objects, Creating Clones Of Subjects, Blurring Faces, And Customizing Creative Transitions Or Effects.
Play With Speed Using Time Remapping
Add Intensity To The Story And Movement Of Your Video By Controlling The Speed Of Your Clips With Keyframing Controls.
Capture And Edit Multiple Cameras Simultaneously
Record Your Screen And Webcam Simultaneously And Create Engaging Tutorial Videos. With Unique Screen Recording Software, You Can Easily Capture Video, System Audio, Microphone Sound, And Record Your Screen In A Single Click.
Combine Clips Creatively
Show Multiple Video Clips Creatively With Custom Layouts. Add Motion To Your Split Screen Videos With Keyframes For Complete Control Of How Your Story Comes Together.
Your Complete 360° Video Editor
Go Full Circle With The Full Suite Of 360 Degree Video Editing Tools To Trim, Correct Color, Add Titles Or Graphics, And Edit Your 360 Video, Now With New Freeze Frame
Enhance Your Footage Creatively
Pinnacle Studio Ultimate Is Your Complete Editing Toolbox, Fully Loaded With The Tools, Advanced Effects, And Filters You Need For Basic Editing And Pro-caliber Enhancements. Take Advantage Of Limitless Creative Opportunity.
Industry-leading NewBlueFX Premium Effects
Add Incredible Creative Effects And Correct Almost Any Video Problem With These Popular Packs From NewBlueFX. Get Hundreds Of Dollars' Worth Of Professional-quality Special Effects Applications For Only A Few Dollars More With Pinnacle Studio Ultimate.
Master Your Audio
Fade Audio In And Out Across Unlimited Tracks, Or Mute Clips Completely With Just A Few Clicks.

Share Your Video With Family, Friends And More!

Export Your Project To Popular Video Formats For Playback On Any Device!

Get More With Pinnacle Studio
Video Of Pinnacle Studio 23
Technical Specifications Of Pinnacle 2013
Pinnacle Studio Ultimate System Requirements
Operating System: Windows 10 Recommended, Windows 8.x, Windows 7, 64 Bit Only
Processor: Intel Core I3 Or AMD A4 3.0 GHz Or Higher
Intel Core I5 Or I7 1.06 GHz Or Higher Required For AVCHD & Intel Quick Sync Video Support

Intel Core I7 4th Generation Or Later Or AMD Athlon A10 Or Higher For UHD, Multi-Camera Or 360 Video
RAM: 4 GB Or Higher, 8+GB Highly Recommended For UHD, Multi-Camera, Or 360 Video
Graphics Card: Minimum Resolution 1024 X 768, Minimum 256MB VGA VRAM, 512MB Or Higher Recommended For Hardware Decoding Acceleration
DirectX Graphics Device Recommended:
NVIDIA GeForce 700 Series / Quadro 600 (Fermi-based) Or Newer (CUDA-enabled Required For CUDA Support)

ATI Radeon HD 5XXX Series Or Higher

Intel HD Graphics From Ivy Bridge Or Higher

3D Titler Requires DirectX 11
Sound Card: Windows-compatible Sound Card
Hard Drive Space: 8 GB HDD Space For Full Installation
Internet Connection Required For Installation, Registration And Updates. Registration Required For Product Use.
Import Formats
Video: AVCHD2, DV, HDV, AVI, MPEG-1/-2/-4, Flash, 3GP (MPEG-4, H.263), WMV, Non-encrypted DVD Titles (incl. DVD-VR/+VR), MOV (DV, MPEG-4, H.264), HEVC1 (H.265), XAVC, MXF, DVCPRO HD, XAVC S, GoPro LRV, Cineform
Audio: MP3, MPA, M4A, WAV, AMR, AC32, AAC, Vorbis, WMA
Graphic: JPS, BMP, GIF, JPG, PCX, PSD, TGA, TIF, WMF, PNG, J2K
Export Formats
Disc: DVD, AVCHD, Blu-ray ($)
Video: DV, HDV, AVI, WMV, MPEG-1/-2/-4, Flash, 3GP, HEVC (H.265, H.264), XAVC S, MOV, M2TS, FLV, 3GP, GIF, Cineform
Image: BMP, JPEG, TIF, TGA
Audio: AC32, MP2, MP3, MP4, WAV
Accessories
DVD Burner Required For Creating DVD And AVCHD Discs

Blu-Ray Burning Requires Purchase Of A Separate Plug-in From Within The Product
Supported Languages
Czech, Danish, Dutch, English, Finnish, French, German, Italian, Japanese, Polish, Russian, Spanish And Swedish
Tags:

Pinnacle Studio 23, Pinnacle Studio 23 Download, Free Download Pinnacle Studio 23