HitmanPro & HitmanPro.Alert Windows Security Software
Category: ANTI-MALWARE | 2019-08-29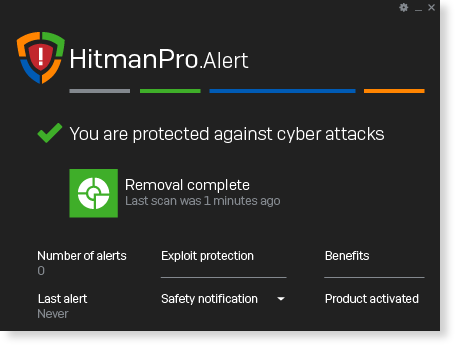 HitmanPro.Alert Watches For Ransomware-style Behavior, Not Just Known Ransomware, Allowing It To Catch Brand New Variants That Other Security Software Can't Recognize. If A File Gets Encrypted, HitmanPro.Alert Makes A Backup File. If Other Files Continue To Be Encrypted, HitmanPro.Alert Recognizes This Behavior As Potential Ransomware And Stops The Process. It Then Rolls Back The Encryption By Replacing The Encrypted Files With The Saved Backups And Then Removes The Ransomware Itself. HitmanPro.Alert Also Blocks Unwanted Encryption Of The Boot Drive, Another Tactic Used By Hackers To Get Money. All Of This Is Done Without Any Needed User Interaction.
HitmanPro Uses Behavior-based Techniques, Looking At Programs And Files That Operate Like Malware Despite Their Innocent Appearance. This Allows It To Find And Remove The New And Developing "zero-day" Malware For Which Antivirus Software Has No Current Detection Signature.
Advanced, Real-time Protection
New And Increasingly Sophisticated Threats Are Being Created Every Day. HitmanPro.Alert Stops These Brand-new, Never–before-seen Threats By Proactively Seeking Out And Analyzing Suspicious Behaviors And Activities. It Goes Beyond Old-school Antivirus To Deliver Advanced, Real-time Protection Against The Latest Hacking, Ransomware, Program Exploits, Webcam Spying, And Online Banking Risks.
Ransomware Protection
Ransomware Encrypts Your Files, Making Them Unusable Until A Ransom Is Paid To The Hackers Who Spread It. And There Is No Guarantee That They'll Be Decrypted Once The Ransom Is Paid. Ransomware Is One Of The Fastest Growing Malware Infections In The World And Has Been Making Headlines Through Massive, Worldwide Outbreaks. It Has Become So Lucrative, That Business Organizations Have Sprung Up In The Criminal World Selling Ransomware As A Product Or Service To Newbie Hackers.
Keeping Your Privacy
Just Like Certain Programs, Webcams, Keyboards, And Web Browsers Are Also Susceptible To Hacking. Simple Infection Techniques Could Give Hackers Access To The Passwords And Credit Card Numbers You Type, The Web Pages You Visit, And Anything That's Happening In Front Of Your Webcam.
HitmanPro.Alert Blocks Unauthorized Access To Your Webcam, Keeping Your Private Life Private. It Beefs Up Browser Security And Warns You If The Browser Has Been Compromised In Anyway. It Also Encrypts Your Keystrokes, Rendering Keyloggers Useless And Keeping What You Type Safe. These Advanced Privacy Features Led MRG Effitas To Award HitmanPro.Alert Their Secure Online Banking Certification.
HitmanPro's Advanced Malware Removal
All The Features Found In HitmanPro Are Also Included In HitmanPro.Alert, Including A Powerful, Professional-grade Virus Cleaner. While Most Traditional Virus Cleaners Simply Remove Offending Malware Files, Our Deep Scan And Clean Goes The Extra Mile By Eradicating All Traces And Remnants Of The Malware That Previous Security Software May Have Left On Your Computer. It'll Be Like Your Computer Was Never Infected In The First Place.
Preventing Program Exploits
There Are Many Helpful Programs For Any Number Of Uses Found On Windows PCs. Unfortunately, The Programs Could Have Vulnerabilities That Provide Backdoors For Hackers To Gain Access To Your System.
HitmanPro
Powerful Malware Removal
HitmanPro Digs Deep To Rid Your Computer Of Any Lingering Infections. Quick, Specialized Scanning, With Easy Removal, Gets Your Computer Back To A Pre-infected State In No Time. It Can Also Run Right Alongside Your Current Security Software If You're Looking For Another Layer Of Security, Or A Second Opinion On How That Security Is Performing.
The "Antivirus Only" Problem
Software Updates And Antivirus Programs Use Malware Signatures To Detect Threats. Each Time New Malware Is Discovered That Is Not Consistent With Previously Known Threats, A New Signature Must Be Created. This Can Take Security Vendors Hours, Days, Or Weeks, Leaving You Vulnerable For A Period Of Time.
Protection Before Booting Up
Rootkits Embed Themselves Deep In The Operating System To Hide From Antivirus Software. These Rootkits Can Infect The Master Boot Record, Allowing Them To Start Before The Windows Operating System Boots Up. This Gives The Rootkit An Advantage Over Built-in Security And Traditional Antivirus Programs.
Our Proprietary Technology Collects Hard Disk Driver Information From Clean Computers And Stores A Representation Of This Information In The Cloud. When HitmanPro Detects A Hook On The Hard Disk Driver, It Consults The Cloud On How To Work Around It. This Allows HitmanPro To Bypass The Rootkit In The Boot Record And Examine The Actual Infected Areas To Begin Cleanup And Remediation Efforts. All Of This Happens In The Background, Not Requiring Any Additional User Interaction, Giving HitmanPro A Distinct Advantage Over Standard Antivirus Programs Or A Completely Manual Removal Process.
Comprehensive Remediation
Today's Malware Piggybacks On Critical System Files To Manipulate The Windows Operating System. HitmanPro Removes These Threats And Replaces The Infected Windows Resources With Safe, Original Versions. Re-infection Attempts Are Blocked During Remediation.
No Installation Needed
Because HitmanPro Requires No Installation And Has A Download Size Of Only 12 MB, You Can Begin Cleaning Your Computer Immediately. It Can Start Directly From A Computer As Well As A USB Flash Drive, CD/DVD, Or A Remote Storage Device. This Is Incredibly Useful In Infection Situations Where Malware Prevents The Installation Of Security Software. HitmanPro Automatically Updates So You Always Have The Latest, Up-to-date Version.
Screenshots Of HitmanPro & HitmanPro.Alert Installation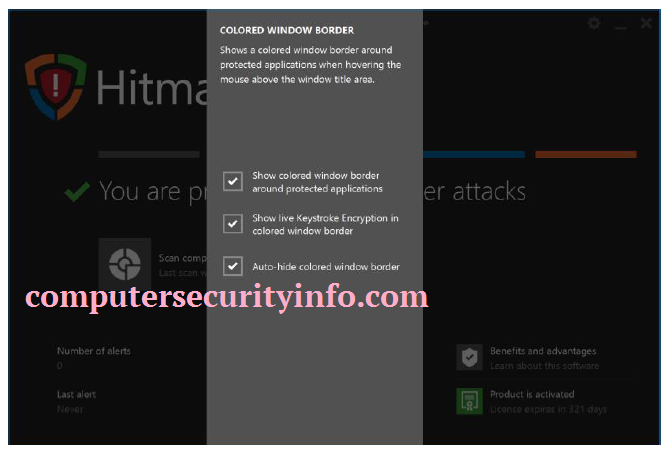 SCAN AND CLEAN
Advanced Malware Removal – Finds And Removes All Traces Of Known And New Malware
PUA (Potentially Unwanted Application) Removal – Targets Apps That Are Actually Spyware, Adware, And More
How Do I Install HitmanPro & HitmaPro.Alert?
Please Download HitmanPro Here: Http://get.hitmanpro.com
Open The Downloaded File

Click Next To Start A Scan

Accept The Terms And Click Next Again

Click Next Yet Again To Save HitmanPro On Your Computer And Create Shortcuts

HitmanPro & HitmanPro.Alert Is Successfully Installed On Your Computer
How Do I Activate HitmanPro & HitmanPro.Alert For Windows PC?
You First Need To Install HitmanPro & HitmanPro.Alert, See Q1.

Open HitmanPro & HitmanPro.Alert

Click On Settings In The Bottom Left Corner

Go To The License Tab

Enter Your Product Key, Including Hyphens

Click Activate

Your License Is Now Successfully Activated On Your Computer
How Do I Uninstall HitmanPro & HitmanPro.Alert From PC?
You Well Known That Any Automatic Anti-malware Tool Is Automatically Removed The System After Click The Uninstall Button. If You Have To Feel Some Issues Regarding The Uninstall Process, Then Explain All Details.
For That, You Should:
Click Ctrl + Alt + Delete In Order To Open Task Manager;
Look For HitmanPro Application And Terminate It. For That, Right Click On The Name And Select End Task.
Windows 10
Click Start (bottom-left Corner) And Select Settings.

Find System – Apps & Feature.

Look For HitmanPro And Click On It Once Founded. Select Uninstall – OK.

Wait Until The Removal Is Finished.
Windows 8/7/XP
Click Start (bottom-left Corner) And Select Control Panel.

Double Click On The HitmanPro Icon, And Start The Removal.
Once You Finish This Simple Task, Your Next Move Should Be To Clean Up The Registries. This Part Of The HitmanPro Removal Requires More Time And Attention As You Will Have To Check Lots Of Files And Registries In Order To Get Rid All File Leftovers. To Help You Perform This Task, We Have Prepared A Step-by-step Guide Below:
Click On The Start Button (bottom Left Corner) And Click On The Search. Type Regedit In A Search Bar.
Here You Should Find And Remove All Registry Entries That Belong To HitmanPro. Search For The Files Located In Folders:
HKEY_CURRENT_USERSoftware HitmanPro

HKEY_LOCAL_MACHINESoftware HitmanPro,

HKEY_LOCAL_MACHINESoftwareMicrosoftWindowsCurrentVersionRuneg Ui.
Finally, Restart Your PC And Check Whether HitmanPro Is Still Working. If You Find It Still There, Our Recommendation Would Be To Use A Tool That Has Specifically Been Designed For Program Removal, For Instance Perfect Uninstaller. It Will Help You To Uninstall HitmanPro Automatically.
Tags:

Hitmanpro & Hitmanpro.alert, Hitmanpro & Hitmanpro.alert Bleeping, Hitmanpro & Hitmanpro.alert Crack, Hitmanpro & Hitmanpro.alert Review, Hitmanpro & Hitmanpro.alert Sophos, Hitmanpro & Hitmanpro.alert V3, Is Hitmanpro & Hitmanpro.alert Safe