2020 Soundstage Pro | Ashampoo® Soundstage Pro Digital Sound Software
Category: MULTIMEDIA | 2019-10-31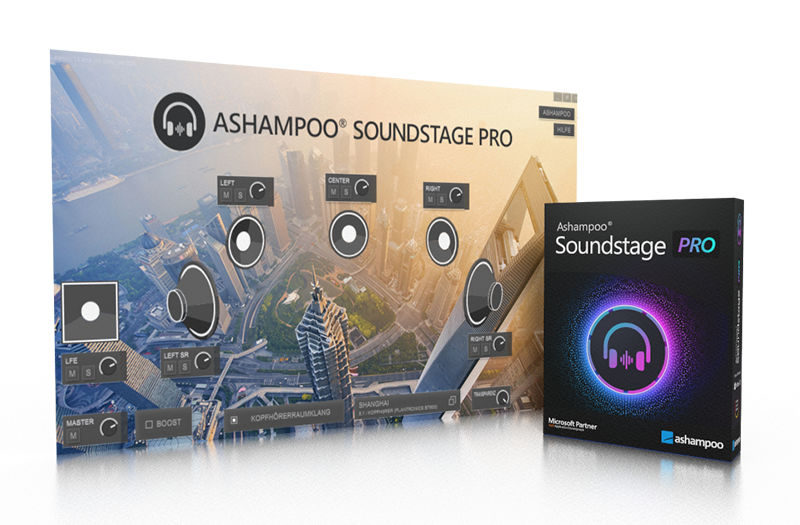 Ashampoo Soundstage Pro Provides Our Customers With A Genuine Surround Sound Experience, But Delivered Through Regular Headphones! The Underlying Technology, Which Has Already Been Used By Grammy Award-winning Artists, Converts Surround Sound Data Into Binaural Stereo—with Jaw-dropping Results! Whether Movie, Music Or Video Game, Ashampoo Soundstage Pro Turns Any Regular PC With A Sound Card And A Pair Of Headphones Into A Full-fledged Surround System!
Until Now, Enjoying True Surround Sound On Your PC Carried A Hefty Price Tag, Not To Mention The Space Requirements For A Surround System. Ashampoo Soundstage Pro Gives You Professional-quality Surround Sound And All You Need Is A PC And A Pair Of Regular Headphones. Ashampoo Soundstage Pro Program Processes Your Audio Signals Based On What They Would Sound Like On A Real-world Surround System And Transforms Them Into Binaural Sound That Is Then Sent To Your Headphones.
The Sound Formats Like 5.1, 6.1 And 7.1 Are Fully Supported And The Program Comes With Ten Different Sound Locations, Created By Professional Sound Artists And Based On Various High-end Recording Studios Around The World. You Have To Hear It To Believe It! Since Tastes, And Headphone Models, Differ, The Program Allows Fine-tuning Of Several Parameters, Including Frequency Response Curves For Your Headphones To Help You Make The Most Of Your Audio Experience.
Naturally, There Are Also Settings Tailored To Gamers, That Favour Low Latency And Response Times. You'll Hear Precisely Where Your Opponents Are! Though The Overall Quality Of The Surround Effect Depends On The Surround Information Embedded In Your Audio, Even Stereo Signals Will Sound Markedly Better And Clearer When Enhanced With The Program.
Features Of Ashampoo® Soundstage Pro
Ten Locations For Different Audio Experiences

Built-in Volume Boost

Grammy-nominated Surround Sound Process!

Headphone Surround For Everyone!

Audio Formats: Stereo, 5.1, 6.1, 7.1

Level Display For Individual Speakers
Screenshots Of Ashampoo® Soundstage Pro
Video Of Ashampoo® Soundstage Pro
Surround Sound Is Something To Behold. But Is Your PC System Connected To A Surround System? With Ashampoo Soundstage Pro, You Can Experience Vivid Surround Sound Through Your Regular Headphones! You Won't Believe How Rich Your Audio Can Sound Without A Dedicated Surround System!
Tags:

Ashampoo® Soundstage Pro, Soundstage Pro, Ashampoo Soundstage Pro, Video Of Soundstage Pro